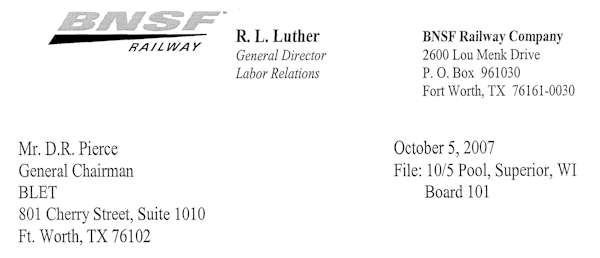 Dear Mr. Pierce
This is in reference to our conference on October 5, 2007 wherein we discussed application of our July 2, 2007 Letter of Understanding addressing application of Article 11 of the June 26, 2007 BLET/BNSF On Property Agreement to the "10/5" Pool at Superior, Wisconsin.
It was understood in conference today that the conditions of the December 9, 1993 BLET/BNSF Local Agreement governing access to temporary vacancies at Superior, WI (attached) will continue to apply to the 10/5 Pool as part of our agreed upon application of Article 11 at Superior.
If you concur with the above criteria, please signify your concurrence in the space provided below.
Sincerely,