ALL LOCAL CHAIRMAN March 26, 2001
BNSF NORTHLINES File: OPS 3-90, 11-1-90
Dear Sirs and Brothers:
Enclosed please find a copy of a fully executed Letter of Understanding concerning Section 2 of the November 1, 1990 transfer agreement. This understanding does not modify the existing agreement as it only serves to establish a standard protocol for the paperwork portion of the agreement. Previous to this time there was no standardized method of applying for, or for approving transfers. As a result it was very difficult to properly place transferring engineers on the affected rosters. This new process will insure that the Organization is notified of all transfer requests as well as all approved transfers so that proper placement on the involved rosters can be achieved. We are developing a standardized request form and when it is completed it will be forwarded as well. Please add this Letter of Understanding to your 11/1/90 Transfer Agreement file and contact this Office if you have any questions concerning its application.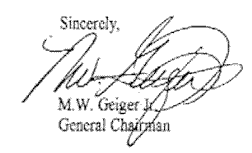 ---
Return to 1990 Transfer Agreement
LETTER OF UNDERSTANDING
between
BROTHERHOOD OF LOCOMOTIVE ENGINEERS
and
BURLINGTON NORTHERN SANTA FE RAILROAD COMPANY
Engineers wishing to transfer by privilege under Section 2 of the November 1, 1990 Transfer Agreement will make application to the BLE General Committee of Adjustment under whose agreement they are working. The BLE General Committee of Adjustment will forward this request to the Carrier Officer designated to receive said transfer request.
Before employees may transfer under this Section of the agreement the transfers must be authorized by the Carrier, in writing, specifying the effective date of the transfers and the seniority districts involved in the transfer. The involved General Committees of Adjustment will be provided copy of this written authorization prior to the involved employee being allowed to transfer.